A Memorial to Christian Theologian Desmond Ford
One of my favorite contemporary Christian theologians, Dr. Desmond Ford (1929–2019), died recently. He was an Australian evangelical theologian with deep roots in the Seventh-day Adventist (SDA) theological tradition. He was educated at both Michigan State and Manchester Universities, where he earned dual doctorates in New Testament studies. At Manchester, he studied under the eminent New Testament scholar F. F. Bruce. Ford had a long, distinguished career and ministry.
Born in Queensland, Australia, Desmond Ford pastored various churches and served as an evangelist in his home country. He was a professor of religion at two Adventist schools: Avondale College (Australia) and Pacific Union College (USA). He was dismissed as a Seventh-day Adventist pastor and theologian in 1980 when he challenged one of the denomination's controversial eschatological doctrines (the investigative judgment, which asserts that the divine judgment of professed Christians has been in progress since 1844) as being, in his view, inconsistent with the gospel.1 He later established a nondenominational evangelical ministry, Good News Unlimited, that was first located in the USA and later moved to Australia.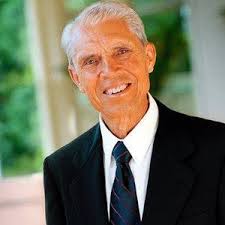 Having served as a teacher, minister, and theologian for more than sixty years, Ford's specific fields of theological focus included apocalypticism and eschatology (the end times literature of the Bible, including the books of Daniel, Ezekiel, and Revelation). He was also a prolific author. Among his thirty books include The Investigative Judgement and the Everlasting Gospel, Right with God Right Now: A Commentary on the Book of Romans, and The Forgotten Day: A Study of the New Testament Sabbath. An avid vegetarian and committed jogger, Ford also gave lectures and wrote books on living a healthy lifestyle (diet and exercise).
I first heard Desmond Ford speak at Walter Martin's Bible class in Southern California in the mid-1980s. He was an amazing preacher and he presented the doctrine of justification by faith with such clarity, passion, and insight that I thought I was listening to the Protestant reformer Martin Luther. I later got to know Des when I worked for Martin at the Christian Research Institute in the late 1980s. Ford was solidly evangelical on the doctrine of justification by faith. Yet he also championed certain doctrines that are associated with the Adventist theological tradition, such as Seventh-day Sabbath-keeping and conditional immortality–annihilationism.2
Though we differed on some important areas of theology, Des was a good friend who always had an encouraging word for me when I was early on in my apologetics ministry. He read some of my articles on Seventh-day Adventism3 and offered instructive, encouraging feedback. He was a Christian gentleman of unique scholarship, devotion, and courage. I also got to know Des's wife, Gillian, to whom I extend my sincerest condolences.
Desmond Ford has now gone to be with the Lord he loved and served. But I miss my friend and early mentor in the study of theology and apologetics. May he now rest in peace with Christ and rise in glory!
Reflections: Your Turn
Have you read any of Desmond Ford's books or heard him speak? Do you have a favorite Christian author or speaker who has significantly influenced you? Visit Reflections on WordPress to comment with your response.
Endnotes
For more about Seventh-day Adventism's relationship to evangelicalism, including the Desmond Ford controversy, see Kenneth Richard Samples, "From Controversy to Crisis: An Updated Assessment of Seventh-day Adventism," Christian Research Institute (September 6, 1993), https://www.iclnet.org/pub/resources/text/cri/cri-jrnl/web/crj0005b.html.
Samples, "From Controversy to Crisis."
For more about my theological reflections on Seventh-day Adventism, see Kenneth Richard Samples, "Evangelical Reflections on Seventh-day Adventism: Yesterday and Today," Andrews University (October 25, 2007), https://qod.andrews.edu/docs/08_kenneth_samples.pdf.