RTB Chapter Summit Review
Most people who take a trip to Los Angeles try to jam in as much sightseeing as possible, traffic allowing, of course. So when a few dozen RTB chapter leaders from all over North America made the trek to Southern California last week for a Chapter Summit, we split up the group and headed to various spots in and around LA. The tour options included The Griffith Observatory, with a clear view of the LA skyline; the California Science Center and lunch near the Staples Center; the Natural History Museum, with a stop at the Big Bang Coffee House; The Huntington, near historic Pasadena; and, of course, Grauman's Chinese Theatre, smack in the heart of Hollywood.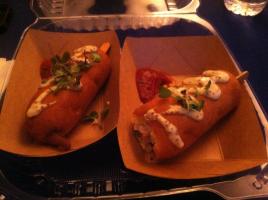 While these are common stops for the average tourist, there's nothing "average" about RTB chapter leaders. Sure, they enjoyed the trip, the food (like the Slummin' Gourmet's lobster corn dog pictured to the right), and even the "storm" that passed through, but most preferred to soak up the conversation.
Chas DeSiena, a member of the Hartford, CT chapter, said he's "here for the conversations." It seems the interactions never ceased during the three-day Summit. Astrophysicist Jeff Zweerink, who led a tour at the California Science Center, certainly noticed. "I think people are more interested in talking than in seeing stuff," he whispered as we feigned watching a brief video presentation on sea life.
It soon became clear why. As Lester Marr from the Vancouver, B.C. chapter put it, "it's great being around like-minded individuals."
Over the course of the Summit, the conversations focused on the core of why we do what we do: to inspire and equip others for evangelism. It's this mission that initially drew many of the leaders to RTB, and its one they've adopted in their efforts to reach people in their local communities.
And we're beyond grateful for their efforts. Director of Outreach, Ken Hultgren, said, "It's through their diligent efforts that doors were opened for RTB to speak at Willow Creek, the University of Texas, and Microsoft," just to give a few examples.
Overall, the intent was to bring chapters together and to share RTB's vision for the next few years and beyond. Through the hard work of many, especially special projects coordinator, Amy Robertson, it looks like the goal accomplished.
Jim Reeverts from the Rochester, NY chapter sums up the experience well,
I came away with a realization of the Lord's wholesome forgiveness and empowerment, a sense of comradeship in mission with the cohort present, and a new sense of confidence that not only can I /we accomplish something for the Lord in this arena, but that the Lord Jesus Christ can and will prevail in His purposes which both this ministry and my life carry out.
I'm not sure it gets any better than that. Unless you throw in a lobster corn dog.
-Sandra
Looking to get connected with RTB? Check out the list of chapters and networks to find out if there's one in your neighborhood.
Here's a glimpse of the Chapter Summit activities.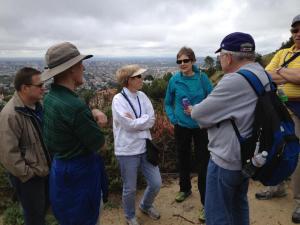 Visiting scholar Kevin Birdwell, RTB President Hugh Ross, Nina Dunton (Birmingham chapter), Senior Vice President, Kathy Ross, Bob Andrews (Grand Rapids chapter), Paul Bell (Portland, OR chapter), and others took the weather in stride on their hike to The Griffith Observatory.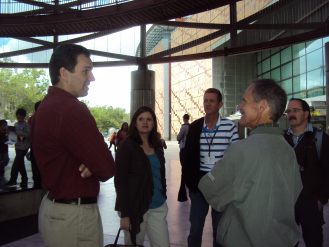 (l-r) RTB Scholar Jeff Zweerink, Ministry Advancement Director, Hannah Palpant, and chapter members Don Waller (Toronto chapter), Will Charles (Lancaster, PA chapter), and Lane Koster (Calgary chapter) keep the conversation going while waiting in line to see IMAX Hubble 3D.
A little rain wasn't enough to stop Ken Samples and his group from touring the Botanical Gardens at The Huntington.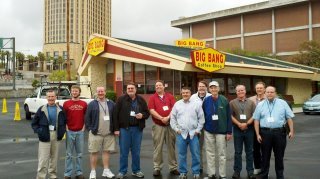 Fuz Rana's group made a quick pit stop at the Big Bang Coffee House before heading to the Natural History Museum.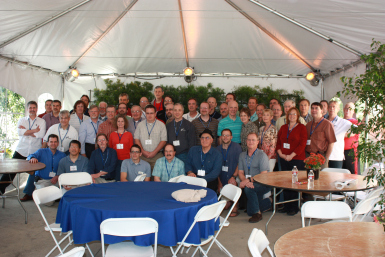 Chapter Summit participants and a few RTB staff