Take Up and Read: Who Is This Jesus?
This current blog series on Reflections is intended to encourage Christians to read more vigorously by providing a beginner's guide to some of the Christian classics in such fields as theology, philosophy, and apologetics. Hopefully a very brief introduction to these important Christian texts will motivate today's believers, as St. Augustine was called to in his dramatic conversion to Christianity, to "take up and read" (Latin: Tolle lege) these classic books.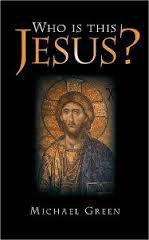 This week's book, Who Is This Jesus?, is by veteran Christian theologian Michael Green and is in my estimation a contemporary classic on introducing the person of Jesus Christ. This volume, while amazingly readable, presents a succinct but intellectually sophisticated summary of Jesus Christ and the beginnings of historic Christianity. If I could recommend one popular book about the life of Christ in an evangelism-apologetics context, this would be the work.
Why Is This Author Notable?
Michael Green is a leading British evangelical scholar and has served for several decades as an Anglican priest, professor, theologian, and apologist. An amazingly prolific author, he has written more than 50 books in his career. Many of his books address the topics of evangelism, apologetics, and doctrinal issues, and he has long defended the evangelical orthodox Christian faith.
What Is This Book About?
Divided into 12 chapters, Who Is This Jesus? addresses all the basic issues, questions, and challenges concerning the person of Jesus Christ. Green discusses Jesus's unique self-identity, his healing and teaching ministry, as well as the major events of his life, including his atoning death and bodily resurrection from the dead. The book also responds to such apologetics challenges as Jesus's historicity and the reliability of the New Testament gospels.
Written for the layman, this book does a great job of introducing the extraordinary person of Jesus Christ for all who yearn to learn more about him and to know him more intimately. Who Is This Jesus? is the perfect book to give to a nonbeliever who has honest questions about the life of Christ. It is also ideal for both someone who is just beginning their journey as a Christian as well as the believer who wants to refresh their knowledge about Christ's unique mission, message, and identity.
Michael Green remarks about the person of Jesus as revealed in the Gospels:
"The character of Jesus is immensely attractive. It embodies all that we ourselves would, in our best moments, like to be. . . . And the claims of Jesus are so startling that they stop us in our tracks and challenge us to make up our minds about this most remarkable person."1
Why Is This Book Worth Reading?

It is rare to find a book written for the layman that has such scholarly sophistication and theological insight as that of Green's Who Is This Jesus? This is an ideal book for church courses in Christian education, evangelism, and apologetics. It is also an inexpensive book for churches to buy in bulk and give away to people who express interest in the faith. I've had the great pleasure of meeting Michael Green and even sharing a podium with him during a time of lecturing. He is an amazing Christian thinker and Who Is this Jesus? is a gem of a book.
Endnotes
Michael Green, Who Is This Jesus? (Vancouver, BC: Regent College Publishing, 1992), 17.