Christian Thinkers 101: A Crash Course on Walter Martin
Walter Martin was one of the most distinctive Christian apologists of the twentieth century, but what exactly did he believe, and what did he contribute to the apologetics enterprise? Here's your crash course on the life and accomplishments of Walter Martin—and why he still matters today.
Who Was Walter Martin?
Walter Ralston Martin (1928–1989) was born in New York City and was one of six children. He was raised in Brooklyn and completed part of his graduate studies at New York University. Martin served as a Baptist minister and was influenced by evangelical scholars such as Frank E. Gaebelein, Wilbur M. Smith, J. Oliver Buswell, and Donald Grey Barnhouse. Because of his work as a Christian theologian and apologist, Martin is widely considered the father of the evangelical counter-cult movement. He founded and directed the Christian Research Institute, an apologetics organization given to the study of cults and new religious movements. He was the original creator and host of the Bible Answer Man radio program, a show dedicated to answering questions about the Bible and Christian apologetics. Martin hosted this popular program until his death in 1989.
What Did Walter Martin Write?
Among numerous books, Walter Martin's most important apologetics-related work is The Kingdom of the Cults that was first published in 1965. The book examines and critiques American-based religious groups that stand outside of historic Christianity, such as Jehovah's Witnesses, Christian Science, the Church of Jesus Christ of Latter-day Saints, and many others. Martin's work has been considered the authoritative reference work on providing a Christian evaluation of American religious cults and is one of the best-selling books ever in the field of counter-cult apologetics.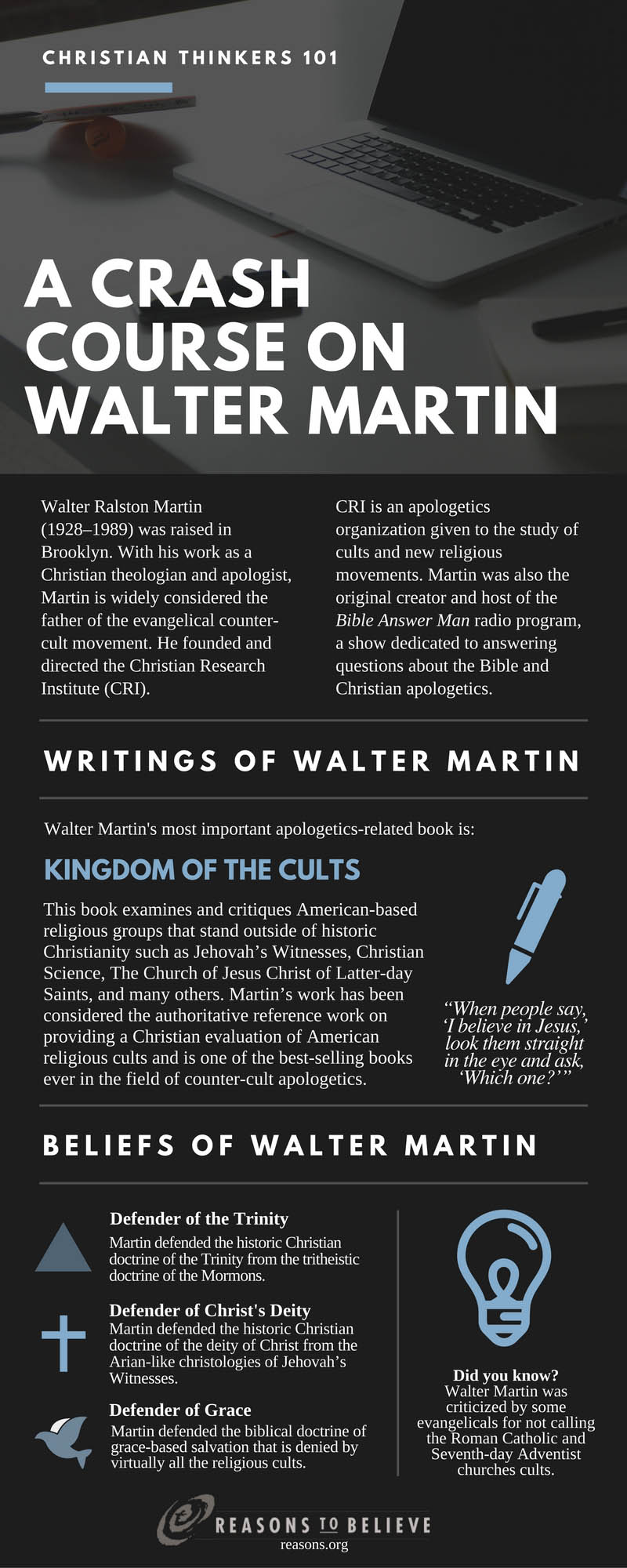 What Did Walter Martin Believe?
As an evangelical Protestant (Baptist), Walter Martin affirmed the doctrinal orthodoxy of historic Christianity. He rigorously defended Christian orthodox doctrine in the following ways:
Martin defended the historic Christian doctrine of the Trinity (one God in three distinct persons) from the tritheistic (three gods) doctrine of the Mormons and the modalistic (one divine god who changes identities) doctrine of the United Pentecostal Church (known as Jesus Only).
Martin defended the historic Christian doctrine of the deity of Christ from the Arian-like Christologies (Christ was a creature) of Jehovah's Witnesses and Christadelphians.
Martin defended the biblical doctrine that salvation is a gift of God's grace solely apart from human works (Ephesians 2:8–10; Titus 3:4–7) that is unfortunately denied by virtually all the heretical sects or religious cults.
Why Does Walter Martin Matter Today?
Walter Martin was criticized by some evangelicals for not calling the Roman Catholic and Seventh-day Adventist churches cults. However, Martin believed that traditional Catholics and Adventists affirm most of what the cults deny doctrinally (such as Trinity, the deity of Christ, and other elements of historic Christianity). Yet it should be noted that Martin was clearly critical of a number of doctrines taught by the Catholic and Adventist churches.
Evangelical Christians today can learn a lot from reading the apologetics writings of Walter Martin. Virtually every evangelical Christian has had a Mormon or Jehovah's Witness knock on their door and has heard members of these religions deny essential elements of historic Christianity. Martin's writings will help equip the average Christian to share their faith effectively with these popular religionists who spread a different gospel.
Other articles in the Christian Thinkers 101 series: St. Augustine; C. S. Lewis; Blaise Pascal; St. Anselm; St. Athanasius; St. Thomas Aquinas; Jonathan Edwards; Søren Kierkegaard; St. Bonaventure; Martin Luther; John Calvin; Irenaeus; Tertullian; St. Basil; St. Jerome; Justin Martyr; Ronald Nash; Mortimer Adler
Reflections: Your Turn
Do you ever share your faith with the Jehovah's Witnesses and Mormons who knock on your door? Why don't more Christians witness to these groups? Visit Reflections on WordPress to comment with your response.
Resources