Are You a Renaissance Christian? 12 Tips for Pursuing Knowledge and Wisdom in Daily Life
I first heard the expression "renaissance Christian" from apologist and attorneyJohn Warwick Montgomery in the early 1980s. Montgomery gave a lecture at the former Simon Greenleaf School of Law on the importance of developing the Christian mind. The lecture left a deep impression on me.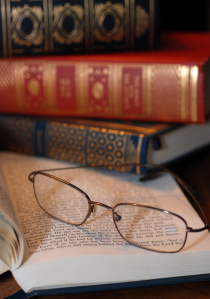 Building on Montgomery's idea, I often talk about the importance of believers pursuing the life of the mind to the glory of God. The Renaissance era (beginning in the fourteenth century) was a revival or rebirth of classical learning and culture that took place in certain European cities. The "renaissance Christian" then can be defined as a believer in Christ who pursues knowledge and wisdom as a daily priority in life.
Historic Christianity concurs that God reveals truth in two books: the figurative book of nature (God's world or general revelation) and the literal book of Scripture (God's Word or special revelation). Therefore, when Christ's followers pursue truth of any kind they will see the signature of the Creator-Redeemer who reveals the ultimate Truth.
January is a great time to set new goals and resolutions. So, I offer the following 12 tips for beginning (or deepening) your pursuit of the life of the mind to the glory of God.
****
1. First of all, take inventory of how much of your weekly time is spent on entertainment and recreation as compared to the pursuit of knowledge.
For most people, including Christians, the pursuit of knowledge is low on the priority list. Now's the time to do something about that. Remember that we are commanded to love God with our mind, as well as our heart and strength (Mark 12:30).
2. Make the pursuit of knowledge and wisdom a daily priority.
According to the Christian worldview, all truth is God's truth!
3. Set short-term and long-term reading goals.
Of course, reading is the best place to start when pursuing knowledge and wisdom, but it can be difficult to know where or how to begin. Mortimer J. Adler and Charles Van Doren's contemporary classic How to Read a Book is a great guide for developing achievable reading goals. Below are goals I'd recommend based on Adler and Van Doren's book.
Devote a set amount of time each day to reading.
Skim (preread) books to decide which are worth a full investment of your time.
Set a goal to analytically read (reflective reading) a certain number of books a year.
Try syntopical reading (reading multiple books on a single topic) to develop a well-rounded view.
4. Consider reading classics of Western civilization.
Peruse Encyclopaedia Britannica's series Great Books of the Western World or see Adler's "A Recommended Reading List" in Appendix A of How to Read a Book for lists of these works, both secular and Christian.
5. Consider reading Christian theological and philosophical classics.
Athanasius: On the Incarnation
Augustine: Confessions; On the Trinity; On Christian Doctrine; The City of God
Anselm: Prosologian; Cur Deus Homo
Thomas Aquinas: Summa Theologica; Summa Contra Gentiles
Martin Luther: The Bondage of the Will; TableTalk
John Calvin: The Institutes of the Christian Religion
Blaise Pascal: Pensées; The Provincial Letters
Jonathan Edwards: A Treatise on Religious Affections
Søren Kierkegaard: Fear and Trembling; The Sickness Unto Death
6. Consider reading contemporary works in theology and philosophy.
C. S. Lewis: Mere Christianity
J. I. Packer: Knowing God
Alvin Plantinga: God, Freedom, and Evil
Ronald Nash: Faith and Reason
7. Include evangelistic and apologetic preparation and worldview analysis in your reading.
Equip yourself to engage people on the topic of faith by selecting books in biblical theology, worldview thinking, logic, and rhetoric.
8. Stay on top of current issues and evaluate them according to your Christian worldview.
News options include the more traditional newspapers, magazines, and academic journals. But cutting-edge technology makes it even easier to stay up-to-date with informative websites, podcasts, blogs, and mobile apps.
Personally, I enjoy reading such popular Christian magazines as World andChristianity Today. Additionally, I find Apologetics 315 a helpful website that offers, among other resources, a list of the top Christian apologetics podcasts.
9. Recognize the limits of TV and radio for gaining reliable information.
All communication channels are naturally subject to some bias. However, TV and radio can be especially susceptible to skewing their reporting by focusing more on sound bytes and sensationalism.
Consider Adler & Van Doren's assessment on this matter (p. 346):
Television, radio, and all the sources of amusement and information that surround us in our daily lives are also artificial props. They can give us the impression that our minds are active, because we are required to react to stimuli from outside. But the power of those external stimuli to keep us going is limited.
10. Expand your education.
Sign up for classes, either online or at a local institution, in topics such as literature, history, philosophy, science, mathematics, religion, psychology, and the arts. For excellent online learning tools, I'd recommend The Great Courses(formally The Teaching Company). And, of course, Reasons To Believe (RTB) offers an array of courses on science and faith via our online learning program, Reasons Institute.
Attending lectures and academic events in your area can be a great supplement (or possibly more economical alternative) to classes. For example, RTB scholars participate in lectures, debates, and conferences across America and Canada—and a number of these events can be attended free of charge. (See the end of this post for detail on one such opportunity.)
11. Learn a new language or brush up on languages you've studied previously.
Language studies stimulate the mind like few other intellectual endeavors and provide a great way to combat the effects of aging on the mind.
12. Plan visits to museums, art galleries, zoos, aquariums, historical landmarks, etc.
Check your city's website for information on museums and other centers of cultural learning, both in your hometown and the surrounding area. Plan a visit to an important landmark or two the next time you take a vacation.
Visiting sites like these is an excellent way to involve your whole family in the learning experience. Living near the Los Angeles area, personal favorites for my family include the Getty Center and the Museum of Tolerance.
****
I'm thankful that John Warwick Montgomery challenged me all those years ago to become a renaissance Christian. In this New Year, I extend the challenge to you. Will you accept it?
Join me for a FREE CLASS in Anaheim, CA
I will be teaching a free course entitled "Are You a Renaissance Christian?" at my church.
Date: Friday, February 10, 2012
Time: 7:00 PM
Place: Christ Reformed Church
900 S. Sunkist St.
Anaheim, CA 92806
This event is free of charge. For more details, call Christ Reformed Church at (714) 538-1057.