Is Raising Children with Religion Child Abuse?
"Horrible as sexual abuse no doubt was, the damage was arguably less than the long-term psychological damage inflicted by bringing the child up Catholic in the first place."

—Richard Dawkins, atheist and evolutionary biologist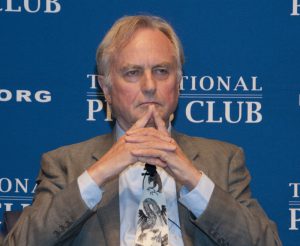 Image: Richard Dawkins. Image credit: Shutterstock
With his typical flair for provocation, on more than one occasion Richard Dawkins has asserted that indoctrinating children in religion is a form of child abuse. In fact, he argues that the mental torment inflicted by religion on children is worse than sexual abuse carried out by priests—or by any other adult, for that matter. By way of support, he cites a conversation he had with someone who was molested by a Catholic priest. According to Dawkins, a woman told him "that while being abused by a priest was a 'yucky' experience, being told as a child that a Protestant friend who died would 'roast in Hell' was more distressing."1
Of course, every time Dawkins has made this proclamation, people from nearly every philosophical and religious perspective have condemned his outlandish statements. But are condemnations enough to keep him from making the assertion? What about evidence?
A study recently published by researchers from Harvard T. H. Chan School of Public Health demonstrates that when Dawkins claims that indoctrinating children with religion is worse than child molestation, he is not only being outlandish, but wrong. The Harvard researchers discovered that children raised with religion are mentally and physically healthier than children raised without religion.2
The study's conclusions are based on analysis of data from the Nurses' Health Study II and the Growing Up Today Study. Sampling between 5,500 to 7,500 individuals (depending on the question asked), the researchers discovered that compared to no attendance, children and adolescents (between 12–19 years of age) who attended weekly religious services displayed:
Greater life satisfaction
Greater sense of mission
Greater volunteerism
Greater forgiveness
Fewer depressive symptoms
Lower likelihood of PTSD
Lower drug use
Reduced cigarette smoking
Lower sexual initiation
Lower levels of STIs (sexually transmitted infections)
Reduced incidences of abnormal Pap smears
The team noticed that when regular attendance of religious services was combined with prayer and meditation, the effects were slightly diminished. At this juncture, they don't understand this counterintuitive finding.
They also discovered mental and physical health benefits for children and adolescents who did not attend religious services but prayed and/or meditated.
Apparently, attending religious services regularly and praying keeps young people from engaging in risky behaviors, makes them more disciplined, and helps develop their character. All of this translates into healthier, better adjusted, more resilient young men and women.
The results of this study align with results of previous studies. Study after study consistently shows that people who practice religion enjoy numerous mental and physical health benefits compared to those who don't. (See the Resources section for more on this topic.) Previous studies focused on adults, but as the study by the Harvard School of Public Health team reveals, the benefits are realized for children and adolescents, too.
Ying Chen, one of the study's authors, concludes, "These findings are important for both our understanding of health and our understanding of parenting practices. Many children are raised religiously, and our study shows that this can powerfully affect their health behaviors, mental health, and overall happiness and well-being."3
Far from being abusive, raising children with religion comprises one facet of responsible parenting. And if Richard Dawkins is truly a man of science, he should be willing to acknowledge the real benefits of teaching religion to our children.
Resources:
Endnotes
Rob Cooper, "Forcing a Religion on Your Children Is as Bad as Child Abuse, Claims Atheist Professor Richard Dawkins," The Daily Mail (April 23, 2013), co.uk/news/article-2312813/Richard-Dawkins-Forcing-religion-children-child-abuse-claims-atheist-professor.html.
Ying Chen and Tyler J. VanderWeele, "Associations of Religious Upbringing with Subsequent Health and Well-Being from Adolescence to Young Adulthood: An Outcome-Wide Analysis," American Journal of Epidemiology (2018): kwy142, doi:10.1093/aje/kwy142.
Alice G. Walton, "Raising Kids with Religion or Spirituality May Protect Their Mental Health," Forbes (September 17, 2018), com/sites/alicegwalton/2018/09/17/raising-kids-with-religion-or-spirituality-may-protect-their-mental-health-study/#7555d89f3287.