I'm convinced our neighborhood garbage men have "nap detectors" on board their trucks. They show up when, and only when, my daughter is napping. I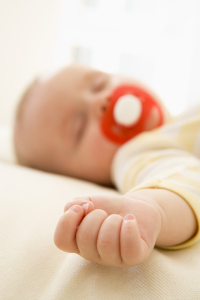 cringe every time I hear the truck rattling around our apartment complex, and pray the little one will sleep through the commotion below her window.
Although the garbage men's timing is deplorable, God's is not. It's not unusual to hear Christians discuss the importance of God's timing in the spiritual realm and in a believer's personal life. But His timing is also fine-tuned in the physical world, including the development of human beings.
Human babies develop slowly compared to other animals, but research shows that this may be a good thing. In an article titled "Timing Is Everything" biochemist and RTB visiting scholar Patricia Fanning points to a study of delayed gene expression in human babies, compared to other animals, and expounds on its implications for humanity's unique intellect.
How does this relate to human uniqueness and intelligence? One theory suggests that the delay in expressing genes in the brain means that the brain remains in a "plastic" state for an extended time. In this state, additional synaptic connections can be formed, resulting in the acquisition of knowledge and memories. Additional time spent in the plastic state may explain some of the biological basis for humanity's vast intellectual abilities.
Patricia further comments that humanity's unusual development begins in the womb, where timing matters as well, "Another example of the 'timing is everything' principle can be observed in the mid phase of human embryogenesis (17 to 23 weeks)—a critical period for the process of brain development."
For me, these scientific insights give new meaning, not only to the way I observe my daughter, but also to the words of the psalmist:
For you created my inmost being;
you knit me together in my mother's womb.
I praise you because I am fearfully and wonderfully made;
your works are wonderful,
I know that full well.
My frame was not hidden from you
when I was made in the secret place,
when I was woven together in the depths of the earth.
Even when delaying something, God's timing is precise and purposeful. Now if only I could get the garbage collectors to perfect their timing!
— Maureen
Resources: Watch Patricia discuss the facts and implications of human embryogenesis in RTB Live! vol. 12: Fetal Development Points to Human Uniqueness.