Fearfully and Wonderfully Made: Creating Life in the Lab
Last October, the church-sponsored small group my husband and I belong to welcomed two children into the world. I crocheted blankets for these latest arrivals. As I weaved the shiny hook in and out of loops of soft, pastel-colored yarn, I about what the psalmist described as God's knitting project:
For you created my inmost being;
you knit me together in my mother's womb.
I praise you because I am fearfully and wonderfully made;
your works are wonderful,
I know that full well.
My frame was not hidden from you
when I was made in the secret place,
when I was woven together in the depths of the earth.
This intimate picture illustrates God's tender care as the Creator of life, each human life in particular. Other Scriptures indicate His care in tending to the natural world, from fragile fawns to ravenous lions, from crying raven chicks to delicate lilies. Indeed, God's exchange with Jobunderscores the thoughtfulness and precision behind each and every stage of creation.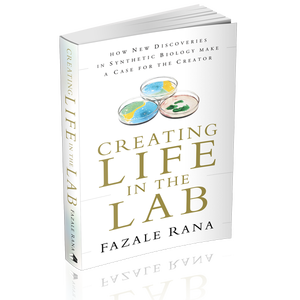 Scientists working to create artificial life-forms in the lab mirror God's meticulous creativity. Research into the basics of life and methods of engineering and manipulating those basics represents an exciting new frontier for human ingenuity. In his newly released book, Creating Life in the Lab, RTB biochemist Fuz Ranachronicles the labors of top-notch scientists to generate artificial life—and they are getting close. In 2010, leading geneticist Craig Venter announced the discovery of a workable methodology for creating a novel life-form dubbed Mycoplasma laboratorium.
For everyday Christians (and even nonChristians) such ideas can conjure uneasy images of Frankenstein's grotesque monster or a gloomy Huxley-inspired future. Does the fact that humans can replicate life in the lab mean that there is no need for a divine creator? Are researchers "playing God," and isn't that kind of work dangerous? Fuz is quick to point out that this work is neither blasphemous nor inherently disastrous.
The effort that goes into this work is astounding. When writing about this kind of research, Fuz uses phrases like "painstaking effort," "exact planning and execution," and "knowledge of the intended outcome." In other words, artificial life-forms are intelligently designed, not the results of mindless, unguided processes. Fuz writes,
As both the top-down and bottom-up approaches [to creating life in the lab] demonstrate, only by deliberate effort, inordinate ingenuity, and astonishing skill can synthetic biologists even begin the process of making artificial life. This work reinforces God's status as Creator, whether skeptics like it or not, because it empirically demonstrates that even the simplest life-form cannot arise without the involvement of an intelligent, intentional agent.
Furthermore, Fuz encourages believers to recognize and embrace the enormous array of benefits that can stem from engineering and manipulating novel life-forms. I wish I could just reprint the epilogue to Creating Life in the Lab for you. Fuz paints a picture of what God is allowing humans to discover: a future of promising medical, environmental, and technological breakthroughs that will dramatically impact our world, potentially for the better.
My mother recalls standing in her front yard at age nine and looking up at the Moon as Neil Armstrong and Buzz Aldren stepped onto its gray, dusty surface. I never thought my generation would get to see anything as monumental as that achievement. But here we are, standing on the threshold of a microscopic step for mankind with astronomical implications. We will get to watch these biochemists and geneticists change the world.
My hope is that we will not be watching only. I'd encourage Christians of my generation and the generation we are now raising to go into these fields of research, to have a voice at the laboratory tables. Those of us who cannot be scientists (you wouldn't want me anywhere near a test tube), still need to take part in the conversation, to help shape and protect the ethics that guide the exploration of the world under the microscope.
In the last lines of the epilogue to Creating Life in the Lab, Fuz writes, "The ability to create artificial life will usher in a brave new world, but it need not bring a future of icy darkness, a world that Christians fear or eschew. It can be one that we engage and embrace and influence for good."
— Maureen
Resources: Keep up with the news on Fuz's latest book via the Creating Life in the Lab virtual book tour, featuring radio interviews with Fuz, informative book reviews, speaking tour updates, and more.