Take Up and Read: Questions That Matter
This current blog series on Reflections is intended to encourage Christians to read more vigorously by providing a beginner's guide to some of the Christian classics in such fields as theology, philosophy, and apologetics. Hopefully a very brief introduction to these important Christian texts will motivate today's believers, as St. Augustine was called to in his dramatic conversion to Christianity, to "take up and read" (Latin: Tolle lege) these classic books.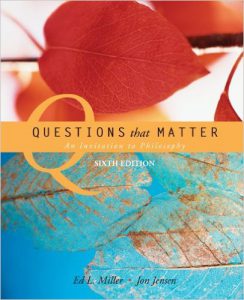 This week's book, Questions That Matter, originally written by Ed Miller and later revised with coauthor Jon Jensen, is not a Christian classic but rather an introductory textbook to philosophy. However, this is not just any textbook. This is, in my view, the very best introduction to philosophy text available today. Anyone interested in philosophy, especially Christians, should start their study of philosophy with this book.
Why Is This Author Notable?
Ed Miller holds dual doctorates in philosophy and theology. He has spent a career teaching philosophy and religion at the University of Colorado, Boulder. A member of the Society of Christian Philosophers, Miller has written several books that Christians interested in apologetics topics would no doubt be interested in reading.
What Is This Book About?
As an adjunct instructor I have taught courses in philosophy and religion over the past 25 years at several colleges and universities in Southern California. I have dozens of introduction to philosophy textbooks in my personal library (instructor complementary review copies from various publishers). For several years I struggled to find a textbook that would buttress my diligent efforts to teach philosophy to young men and women in a challenging and stimulating fashion. By far, the best introduction to philosophy textbook I have ever seen or used is Ed Miller's outstanding book Questions That Matter (hereafter QTM). Allow me to explore this work by mentioning five reasons why this book is a truly exceptional textbook in philosophy.
First, QTM strikes an excellent balance between scholarly content on one hand, and a readable writing style on the other. A motivated and reflective college student will come away from this volume with a thorough and understandable introductory knowledge of the discipline of philosophy.
Second, QTM provides a comprehensive introduction to philosophy by introducing the student to the major branches or fields of philosophy, including metaphysics (study of reality), epistemology (study of knowledge), ethics (study of the good), logic (study of correct reasoning), and philosophy of religion (critical analysis about God).
Third, while QTM is organized in a topical manner, it includes a wealth of information about all of the leading philosophers of the Western world, including relevant excerpts from the various philosophers' writings in their major fields of contribution. This text also includes brief but very informative mini-biographies of the leading philosophers.
Fourth, QTM as a textbook promotes solid learning through the helpful use of charts, diagrams, and pull quotes that give definitions of key terms. In addition, the text provides a useful and extensive glossary of philosophical terms.
Fifth, QTM is written by a primary author who holds doctoral degrees in both philosophy and theology. The result is a textbook that addresses the field of philosophy of religion in a very sophisticated and evenhanded manner. Arguments both for and against God are clearly presented and logically evaluated. The best philosophers on both sides of the God question are quoted.
The authors of QTM provide the following working definition of this reflective enterprise:
"Philosophy is the attempt to think rationally and critically about the most important questions."1
Why Is This Book Worth Reading?

Philosophy is such an important subject in life that everyone should have at least a basic knowledge of what it's all about. And this is especially true of Christians who can greatly benefit from knowing how philosophy was used in earlier eras as a handmaid (or servant) to theology. Whether you are new to the subject or just looking for a more formal understanding, get a hold of Miller and Jensen's fine book. As a college instructor, I give QTM my highest recommendation. I recommend it to teachers and students alike.
Endnotes
Ed Miller and Jon Jensen, Questions That Matter: An Invitation to Philosophy, 6th ed. (New York: McGraw-Hill, 2004), 16.