Take Up and Read: Man's Search for Meaning
This current blog series on Reflections is intended to encourage Christians to read more vigorously by providing a beginner's guide to Christian classics in theology, philosophy, and apologetics. My hope is that these introductions to important Christian texts will motivate today's believers to, as St. Augustine put it, "take up and read" (Latin: Tolle lege) these classic books.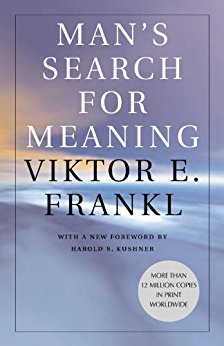 This week's book, Man's Search for Meaning by psychiatrist and Holocaust survivor Viktor Frankl, is not a Christian classic but rather a contemporary one on finding meaning in severe suffering. Written just after World War II ended, Frankl's bestselling book has been translated into 24 languages and has sold over 12 million copies worldwide. The Library of Congress and Book of the Month Club recognized Man's Search for Meaning as one of "the ten most influential books in America."1
Why Is This Author Notable?
Viktor Emil Frankl (1905–1997) was an Austrian-Jewish neurologist and psychiatrist and one of the most influential thinkers of the twentieth century. After surviving the Holocaust, Frankl went on to found logotherapy, which is considered the "Third Viennese School of Psychotherapy" after those of Sigmund Freud (psychoanalysis) and Alfred Adler (individual psychology). A prolific author, Frankl taught and lectured all over the world and received 29 honorary doctoral degrees.
What Is This Book About?
Man's Search for Meaning was first published in 1946 after Frankl had spent time as a Jewish inmate in three Nazi concentration camps, including Auschwitz and Dachau. His parents, his pregnant wife, and his brother all perished in the Holocaust. Frankl's best-selling book combines elements of a memoir, psychological study, and existential philosophy to offer a way of finding meaning in incalculable suffering.
The book is divided into three parts. In Part 1, "Experiences in a Concentration Camp," Frankl offers personal observations and reflections about his time as an inmate. He reveals that finding specific meaning in suffering helped him survive and lessen psychological damage to his inner self.
Part 2 is entitled "Logotherapy in a Nutshell." In this section, Frankl unveils his meaning-centered therapeutic approach to psychoanalysis. He affirms that a person can find meaning in choosing how to respond to challenging circumstances.
Part 3 consists of a postscript written in 1984 entitled "The Case for a Tragic Optimism." This section of the book makes the case that an optimistic approach to life benefits all people regardless of their suffering.
I was struck by three broad points that Frankl makes in his outstanding work. First, he quotes Friedrich Nietzsche's popular statement, "He who has a why to live can bear with almost any how."2 Thus, genuine hope and purpose in life can aid people when facing hardships of all kinds.
Second, Frankl proposes a common modern Jewish perspective that there are two kinds of people in the world: the decent and the indecent. (Obviously, this does not reflect the doctrine of original sin, which states that all people are radically sinful.) For example, he reveals that some of the concentration camp guards were decent while some of the inmates were indecent.
Third, logotherapy emphasizes "the will to meaning." Frankl insists that happiness is a by-product of living a good and meaningful life and that objective sources of meaning can be found in (1) goodness, beauty, and love; (2) creative deeds or work; and (3) one's transformed attitude toward suffering.
Here Frankl describes the enigmatic nature of human beings as exhibited in the gas chambers of the Holocaust:
Man is that being who invented the gas chambers of Auschwitz; however, he is also that being who entered those chambers upright, with the Lord's Prayer or the Shema Yisrael on his lips.3
Why Is This Book Worth Reading?
Man's Search for Meaning is a book that every person should read, especially high school and college students. It is a classic about how one man came to grips with the horrors of the Holocaust. It reveals that hope, meaning, and purpose in life are essential if a person is going to have a livable worldview. Additionally, many of Frankl's insights into facing common neuroses and the inevitable suffering that all humans encounter can resonate with Christians.
Read and reflect on this modern masterpiece.