1917: A Movie about Choices, Character, Courage
The historical conflict goes by a number of names: the Great War, the War to End All Wars, and later, World War I (1914–1918). Though World War II (1939–1945) caused far more destruction and higher death tolls, some Europeans who lived through both catastrophic wars—such as J. R. R. Tolkien and C. S. Lewis—thought the First World War was more jarring to society and civilization than the second.1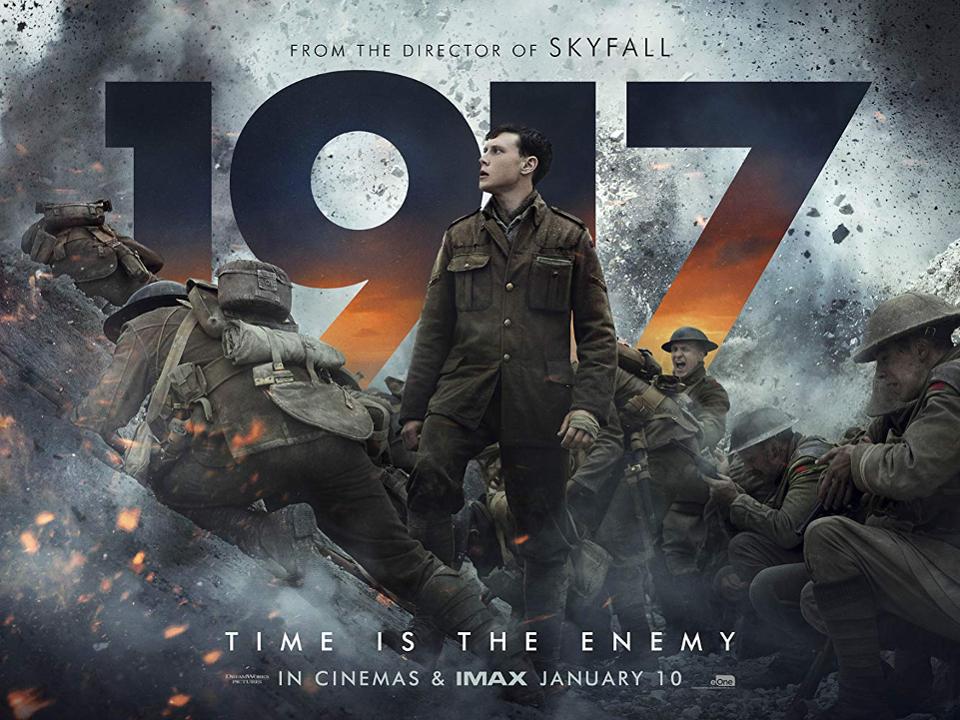 Before I write some reflections about the new movie 1917, here are a few basic facts about World War I:2
The war began in 1914 upon the assassination of Archduke Franz Ferdinand and lasted through 1918.

The war involved the Allied Powers (Britain, France, Russia, Italy, Japan, and the United States, among others) versus the Central Powers (Germany, Austria-Hungary, Bulgaria, and the Ottoman Empire).
New military technologies and chemical weapons used in the war included: airplanes, tanks, machine guns, and poison gas.
The war resulted in a staggering 37,000,000 casualties.

If laid end-to-end, t

he distinctive trenches erected by both sides during World War I would stretch some 35,000 miles.
The Film: 1917
Director Sam Mendes's new and gripping film, 1917 (with cinematography by Roger Deakins), captures one of the many dramatic stories3 of the Great War. As you can imagine the film involves violence, gruesome war scenes, and some offensive language. Allow me to ever so briefly summarize the plot without giving too much away for those who have not yet seen it. And you should definitely see it!
In April 1917, the war is at a stalemate. British lance corporals and best friends Tom Blake (Dean Charles-Chapman) and Will Schofield (George MacKay) are given an extremely difficult and time-sensitive mission. If they are able to carry it out, they could save the lives of 1,600 of their fellow soldiers, including Blake's brother. They encounter harrowing events as they cross over hostile territory in a frantic attempt to deliver their urgent, potentially life-saving message to military leaders at the western front.
3 Reflections on the Movie
As a student of the history of war (particularly the two world wars), I appreciated the movie's attention to detail in terms of uniforms, weapons, and the trenches. I also thought the film allowed me to feel a little of what it must have been like to be on the battlefields of the War to End All Wars. In the protagonists' attempt to carry out their do-or-die military mission, I see at least three philosophical issues of life.
First, the everyday choices we make in life can have dramatic results in extraordinary circumstances. For example, war can make seemingly small decisions monumental in effect. Blake chooses Schofield at the beginning of the movie in a mundane manner but that decision ultimately impacts the lives of hundreds of men. Thus, as volitional creatures the choices we make are meaningful, and over the course of our lives they define who we are and what we accomplish.
Second, the people we associate with in life tend to shape us just as we tend to shape them. Our relationships can have a profound impact on who we become and the character we ultimately develop. A critical part of the movie hinges on the way Schofield adopts Blake's mission, values, and sense of urgency. So the people in our lives and our relationships with them can serve to transform us for good or bad.
Third, courage is a foundational virtue both in life and in facing death. Courage is not the absence of fear but the recognition that some things are more important than one's personal safety and peaceful state of mind. Both of the soldiers in the movie face stark fear but, motivated by a deep concern for others, they are able to overcome it. Thus, courage can be defined as the mental or moral willingness to face danger, difficulty, or trial. And we all need courage in life and in death.
1917 has won numerous awards, including the Golden Globe for Best Picture and Best Director and the Academy Award for Cinematography, Visual Effects, and Sound Mixing. I highly recommend the movie. It made me think about history, virtue, and how I live my life. I think it might do the same for you.
Reflections: Your Turn
What is your favorite war movie? Why? Visit Reflections on WordPress to comment with your response.
Endnotes
Both Tolkien and Lewis served in the British Army during World War I and closely followed World War II from their homes in Oxford, England. See A Hobbit, A Wardrobe and a Great War: How J.R.R. Tolkien and C.S. Lewis Rediscovered Faith, Friendship, and Heroism in the Cataclysm of 1914-1918 by Joseph Loconte.
For more about World War I, see The First World War by John Keegan.
"1917 is something of a true story, loosely based on a tale the director's grandfather—Alfred H. Mendes, who served with the British Army during the First World War—told him as a child." See Alex Nelson, "Is 1917 a True Story? First World War Background and Historical Accuracy of the Oscar-Nominated Sam Mendes Film," The i Newsletter, February 9, 2020,
https://inews.co.uk/culture/film/1917-true-story-film-historical-accuracy-first-world-war-sam-mendes-1358467.