Fazale Rana Celebrates First Anniversary as RTB President
Can you believe it's already been a year since you took on the title of RTB President and CEO? What excites you about this role?
The past year has been a whirlwind. I've learned a lot about leading a ministry. I'm grateful to work with talented and capable team members who embrace RTB's purpose to open people to the gospel by revealing God in science.
Hugh and Kathy Ross built RTB from the ground up. Thanks to their leadership, the ministry's growth over the last 37 years has been miraculous, and I'm grateful that I've had the opportunity to contribute to that growth.
RTB has impacted countless lives, and we're now poised to play a critical role in taking the gospel to STEMM-minded people all over the world. I'm excited to lead RTB into the next chapter of its history.
Looking back on your first year, can you share with us one way you've advanced RTB's original vision to the next level?
With so many changes this past year, it was naïve to think the transition would take a single year to complete. We now recognize that it may take up to three years to fully transition. A lot of my effort has gone toward making the leadership change successful while ensuring Hugh and Kathy's continued involvement.
I've also worked closely with our leadership team to lay the groundwork for three key initiatives:
Grow the Scholar Community, with an eye toward expanding from about 175 members to 1,000 members.
Expand RTB's global presence by opening additional partnership offices around the world and continuing to translate our resources into some of the most widely spoken languages.
Create a variety of video and written resources for general and youth audiences.
We'll begin to see the fruits of some of these efforts in the next fiscal year. I can't wait!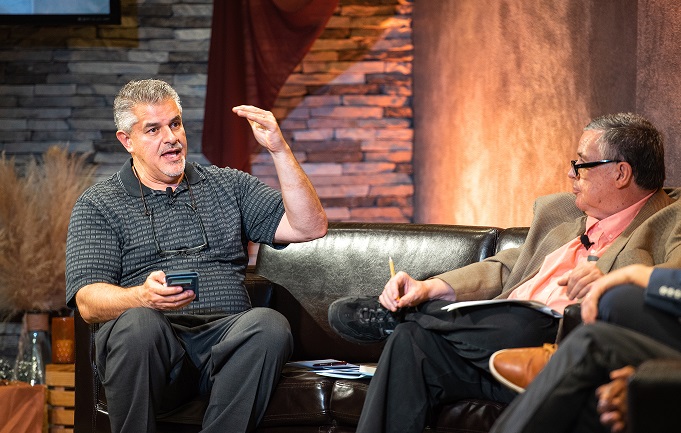 What's next for RTB? What's new that our friends can look forward to?
Expect to see our Scholar Community members making more contributions to RTB's ministry endeavors.
The RTB staff scholar team will continue to lead the ministry's efforts by producing cutting-edge scientific apologetics content in the form of books, web articles, and video resources. We'll also continue our outreach on university campuses and at church venues.
But there's a limit to the number of people our staff scholars can reach. Even if we double or triple our scholar team, we'll never be able to reach the number of people around the world who we hope will come to recognize God's attributes in nature, embrace the gospel, and fall in love with him.
But what if we unleashed the full force of the Scholar Community to help us write books and articles, record videos, and speak at outreach events? What if we grew the Scholar Community to 1,000 members around the world?
Almost instantly, we'd have the ability to fulfill our vision and purpose as a ministry. And we could do it quickly!
Imagine if each year, each of those 1,000 Scholar Community members spoke on 5 university campuses and helped equip members of 5 churches to share the scientific evidence for the Christian faith. We would reach 5,000 university campuses and 5,000 churches per year with the message that science and reason affirm the Bible. What if they repeated these efforts for 5 years? We would present RTB's message to 25,000 university communities and impact the outreach efforts of 25,000 churches around the world.
Are you working on a new book?
My current book project, which is moving slowly at the moment, will present an introduction to some of the more interesting and thought-provoking advances in synthetic biology and biotechnology. It's remarkable that we now have the capability to create artificial, nonnatural life-forms in the lab. This expertise raises all kinds of safety and ethical concerns that are best summarized by the single question posed in the book's working title: Should We Play God?
Instead of responding solely to the ethical and safety concerns, I'm proposing a theology for synthetic biology and biotechnology that's built around the major themes of the Christian story: creation, fall, redemption, and consummation. This theology will provide the framework to equip Christians with a comprehensive response to these advancing technologies, help them guide their development, and ensure their best use.
I'm continually looking for new ways to advance the design argument. Toward that end, I'm also working on developing a new perspective on the structure and function of biochemical systems. Based on some of my preliminary work, I'm convinced that biomolecules are best understood as mechanical computers. If my insight bears out, not only will it impact our understanding of biochemical systems, but it can also be used to advance a new argument for a Creator's existence and role in the origin and design of life.
Tell us three fun facts that most people don't know about you!
I'm an avid sports fan. I've rooted for the Cincinnati Bengals and Cincinnati Reds my whole life. If you cut me, I bleed orange and red. I also love to play fantasy sports.
I love music. I don't have any musical ability, but I'm fascinated by the art and science of writing and performing music. I also collect music and have a massive CD collection. I enjoy virtually every genre, but I'm most enamored by the Blues and Americana.
I also collect comic books and action figures. (They aren't dolls or toys as my wife says. They're collectibles!) I plan to give my comics and action figures to my grandkids—when I'm done playing with them!