A TNRTB Best of: Thank God for Flowers
We couldn't believe our eyes. For several hours Kathy and I had been hiking through mile after mile of mountain meadows filled with an array of flowers of every imaginable color, shape, and smell (see figure 1). The flowers were so dense and so beautiful that any random swipe of my hand would have created a bouquet that would have put any FTD arrangement to shame. The pristine and serene landscape, however, moved us to take every care not to disturb it. Not seeing another human being throughout the day, we felt like Adam and Eve wandering in the Garden of Eden. For both of us, that day was a spiritual experience of the beauty of God's creation we will never forget.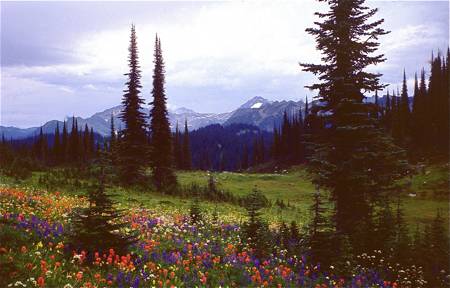 Paleontologist Kevin Boyce and climate modeler Jung-Eun Lee, both at the University of Chicago, have uncovered evidence that flowering plants contribute much more than serenity and beauty to human wellbeing. They discovered that without flowering plants global human civilization would not be possible.
Find out the details of this study in a previous TNRTB. I hope it will give you more appreciation for the loving care of our Creator and Savior this holiday season. Merry Christmas to you and yours!