Under the Sea at Monterey Bay
The first sardine cannery opened on Ocean View Avenue, Monterey in 1908—by the 1950s, overfishing forced the canneries to close their doors. The innovative Hovden Cannery was the last to close in 1973.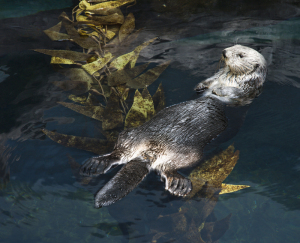 Almost 40 years later, Cannery Row(officially renamed after the John Steinbeck novel) is thriving again—this time as a popular historic attraction and marine life sanctuary. When my husband and I toured the Monterey Bay Aquarium last month I was amazed to see that the old Hovden Cannery building now houses a world-class aquarium dedicated to ocean research, education, and conservation.
The aquarium exhibits house over 600 animal species and thousands of plant species. My husband and I ogled forests of iridescent jellyfish, fanciful sea dragons, adorable sea otters, and more. The Open Sea exhibit, with its glittering cloud of sardines and spooky hammerhead sharks, was my personal favorite.
It's mind-boggling to think on the incredible complexity of ocean life. Here at RTB, aquatic animals are a common topic for podcasts and blogs. More and more research is revealing how each species plays a role in maintaining Earth's oceanic ecosystems—to the benefit of everyone on this planet.
The fine-tuned balance of oceanic ecosystems powerfully demonstrates the work of a Creator. Every feature is designed to work in sync with others and each organism has its place. I'm reminded of Romans 12 where Paul explains to believers that each has a place and purpose in the Christian family. Just as each believer's service is important, so each ocean creature's place in the ecosystem counts no matter how "small" its role seems.
— Maureen