The Take Two Thanksgiving Spectacular
Since Thanksgiving is tomorrow, here's a double serving of Take Two to go with your pumpkin pie. Yum!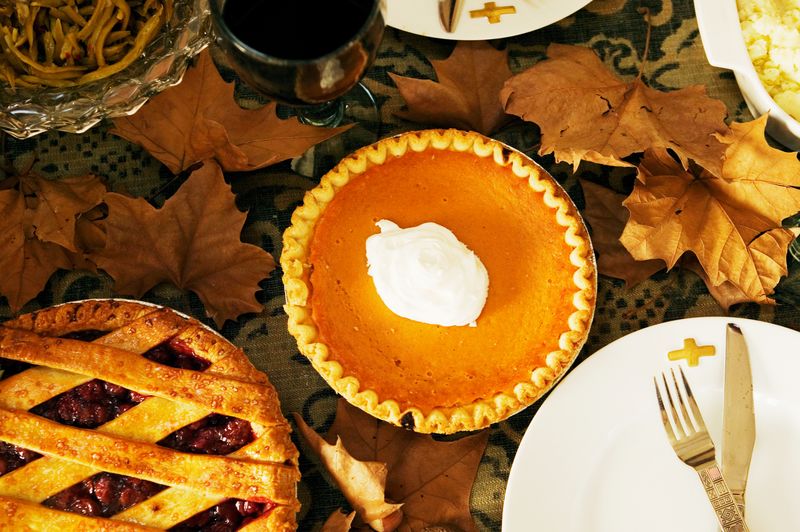 Enough Is as Good as a Feast
Every year around Thanksgiving, my mom and I don our favorite aprons to bake our signature pumpkin bread. The annual baking day takes 10–12 hours. But this year we found ourselves nearing completion by noon. Somewhere along the line we had miscalculated the ingredients. But whereas we usually end up with an excess of bread, this time there are just enough loaves to meet our needs. The incident got me thinking, am I truly satisfied with enough?
Catalog coveting
Sometimes I catch myself coveting everything in the Pottery Barn catalog. I love the coordinated décor and envy the serene hostesses pictured there.
A magazine hostess follows all the rules for achieving the most elegant Thanksgiving ever. Unlike the hostesses in my family, she doesn't accidentally cook a frozen turkey or break plates during a whipped cream fight. Her cat doesn't die on the kitchen floor. And she certainly doesn't mess up while baking pumpkin bread.
But, truly, she's missing out on all the fun.
Back to the heart of Thanksgiving
The pumpkin bread miscalculation helped shake me out of my covetousness and brought me back to the purpose of this holiday: to partake in the ancient tradition of feasting and fellowship, to celebrate another year together, and remember God's faithfulness.
The Apostle Paul declared to the Philippians, "I thank my God every time I remember you." As I look forward to seeing the smiling faces of family and friends, I find myself empathizing with Paul. I thank God when I think of all the wonderful people in my life and all the adventures we've shared—both in the kitchen and out of it.
Happy Thanksgiving to you and yours!
— Maureen
And, yes, my grandmother's cat really did die in the middle of the kitchen floor during a holiday party.
******************
Sing Hallelujah!
Thanksgiving. For me, it's the emotional equivalent of a bag of mixed veggies. I savor the extra time with my extended family, but cooking all day just doesn't appeal to me. Besides, my heart is thankful everyday—for my family, friends, faith, freedom, and, as always, freshly brewed coffee.
And considering the economic downturn our country's slogging through, it seems like this year more than ever it's vital that we follow the call to "open your hand to your brother, to the needy and to the poor, in your land" (Deuteronomy 15:11).
So rather than focus on just thankfulness—which is something we might try to acknowledge every day, not just the day of the Macy's parade—what if we focus on giving? Time. Food. Clothing. Hope. Reaching out to the physically or spiritually hungry may not stuff our bellies, but it'll certainly fill our hearts to overflowing. And that's something that'll last far longer than leftover turkey.
"Now he who supplies seed to the sower and bread for food will also supply and increase your store of seed and will enlarge the harvest of your righteousness. You will be made rich in every way so that you can be generous on every occasion, and through us your generosity will result in thanksgiving to God. This service that you perform is not only supplying the needs of God's people but is also overflowing in many expressions of thanks to God."
Hallelujah! And Happy Thanksgiving!
–Sandra