Key leaders are fighting. So-called devotees have assaulted both supporters and cynics. And overall attendance—not to mention morale—is down.
A quick scan of news headlines makes it increasingly difficult to defend why anyone is still a fan, and yet many remain faithful. Why stay committed to such a movement when all signs indicate it's losing its sway? I'm talking about the Los Angeles Dodgers, but I could just as easily be talking about the Christian faith.
Bear with me for a minute.
Concerning the Dodgers, the season opened with the brutal beating of Giants' fan Bryan Stow at the hands of Dodger fanatics. Since then, the off-field drama has continued to unfold. Most recently MLB Commissioner Bud Selig rejected a proposed deal between the Dodgers and Fox.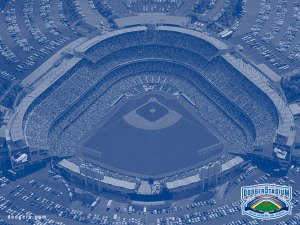 The deal would've lined beleaguered owner Frank McCourt's fancy pants with a nice chunk of change. Now it appears the Dodgers may be unable meet payroll, which could mean the MLB will seize the team and put it up for sale.
Sure Matt Kemp is a legitimate contender for MVP and Clayton Kershaw has shown he can throw a pitch and swing a bat. But their work is overshadowed by owner mismanagement and fan misbehavior. Season-ticket holders as well as average fans have responded by staying home. Compared to last year, attendance is down by nearly 8,000 per game.
The misconduct of a few is not what the team—and being a fan—is all about.
Here's where what's happening within the Dodgers organization bears some similarity to what happens within the church.
On Saturday, May 21, people waited eagerly for the clock to strike 6 PM. Some were looking forward to Christ's punctual return; others (unfortunately) looked forward to mocking Harold Camping for once again wrongly predicting the rapture. (Ken Samples writes about it here, if you're interested.)
Camping certainly isn't alone in drawing less-than-favorable attention to the faith. News about another money-grubbing, affair-having, hate-mongering Christian leader often leaves the rest of us to pick up (or get handed) the heavy weight of guilt by association. Sometimes it seems too much to bear and the allure of "staying home," disengaging from the faith, becomes all too enticing.
Like with the Dodgers, the misconduct of a few is not what the faith—and being a fan—is all about. Yes, bad behavior in the name of a good God is tragic. Still, it shouldn't overshadow the worthy efforts of others—and it could never overshadow Christ's atoning work on the cross. To walk away from the faith's true essence would be a shame. There's work to be done. The race must continue, and the prize is far better than the pennant.
So how do you respond when hear about another "naughty-naughty-you-got-caughty" Christian leader? And do you think the Dodgers stand a chance at ending the season over .500?
–Sandra