Spreading the Good News–With Love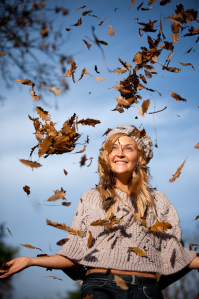 Vibrant foliage colors, exciting festivities, and Starbucks' pumpkin spice lattes all help make fall my favorite time of year. Although people often say Southern California doesn't experience "real" seasons, the signs of change are here. Our founder, Hugh Ross, aptly describes autumn in SoCal in an upcoming ministry letter:
While the seasons here in Southern California are subtle, to those of us who live and work here the signs are very familiar. From the yellowing of the autumn light to the unmistakable marine layer that reaches deep into the valleys and canyons.
Another hallmark of autumn here at RTB is our jam-packed roster of upcoming events. With summer vacations over, the scholar team is on the road again. As we outline in our mission statement, "RTB exists to spread the Christian Gospel…" One way we do this is by sending our scholars out to participate in discussion and dialogue about the relationship between science and faith.
Engaging and Equipping
The RTB mission doesn't stop at simply engaging scientists and other influencers at universities and churches. We also aim to equip and encourage everyday believers (like me and Sandra) to share, boldly and respectfully, the Good News with family, friends, colleagues, and even the blogosphere! We want believers to view apologetics as an important part of communicating with a skeptical world. But, as representatives of Christ, we also need to remember to value winning people more than winning an argument.
Christian apologist Carson writes on his blog, Reasons for God:
One of the habits which is all-too-common among "apologists" is a failure to listen. When we don't ask questions, when we don't give you [the listener] the space to share your thoughts and your heart, when we forcibly make our point whether or not you want to hear it, we do damage. It can be more about us sounding right than you experiencing love, care, and someone admitting that what happened to you was wrong.
This is why RTB includes "gentleness, respect, and integrity" among our core values. So to help Christians lovingly spread the Good News of Christ the Creator and Redeemer in their sphere of influence, we offer resources in various formats.
Debates on DVD: The RTB Live! series and other DVDs offer front row seats to lively science-faith discussions between RTB scholars and opponents such as Michael Shermer and Victor Stenger.
Tips for cogent reasoning: RTB philosopher/theologian Kenneth Samples always encourages believers to be careful thinkers who use sound logic and respectful rhetoric to present their case for Christ. Check out his blog, Reflections, and podcast, Straight Thinking, for series like "Logic 101" (blog) and "The Golden Rule of Apologetics" (podcast).
Brilliant blog posts: Okay, so maybe we're not "brilliant," but Sandra and I share a few nuggets of wisdom we've picked up from the scholars in these posts: "A Match Made in Heaven,""Explosive Debates," "Ballroom Lessons," and "Why Can't We Be Friends?"
As always, I hope these resources help you in your faith-centered conversations, no matter the topic. Who knows? Maybe you'll see signs of change in the skeptics in your life.
— Maureen
Resources: Like the list of resources above, RTB's fall itinerary is long. You can keep up with the scholars' schedules (or book them to come to your area) at reasons.org/events. Highlights from this season's travels will include:
Hugh's Seattle Area Tour: From October 22–26,Hugh will tour the Seattle area speaking at various gatherings, including Mars Hill Church, Lake Sammamish Foursquare Church, the RTB Seattle chapter meeting, and a live radio interview on The Debbie Chavez Show.
Hugh and Fuz in Vancouver: November 3–8,Hugh and Fazale Rana will be in Vancouver, BC, for a round of lectures at venues like the University of British Columbia, Regent College, and Trinity Western University. They'll also be participating in several scholar forums with Dennis Venema and Rob Tarzwell. These events are sponsored by the RTB Vancouver chapter.
Following the Vancouver tour, Hugh will be heading to Calgary, AB, for more engagements in his home country.