A Look Back at RTB's Cruise Conference, Part 4
Over the last few weeks RTB scholars Fazale Rana, Hugh Ross, Jeff Zweerink, and Kenneth Samples have taken us on a virtual journey through the events that took place on the ms Zuiderdam. On this final look back at RTB's Cruise Conference, we check in with the modestly named Average Joe, host of I Didn't Know That! and other RTB podcasts.
Joe, the scholars of course gave talks on a variety of topics, from global warming to creating life in the lab to Christianity's dangerous ideas. Did you have an opportunity to sit in on any of these talks?
Yes, I did. I heard the general sessions, and I was able to sit in on a couple of the breakout sessions, too. Even though I'm an Average Joe I tried not to rock the boat, so to speak.
In your blog post, you wrote that the Alaskan landscape pulled you "God-ward."
Yeah, that Glacier Bay was really something else. I wish I could've camped on the deck of the ship and spent a night listening to the calving glaciers. That would've been cool.
You recorded two episodes of I Didn't Know That! during the cruise. Was it nerve-racking hosting a podcast while 130-something guests sat in the audience?
The only thing I was afraid of was tripping while going up the stairs to the stage, but other than that, no. In fact, being able to participate in that fashion was a personal highlight.
Normally you ask the guys to respond to questions sent via email, but this time you fielded questions from the audience. How'd that go?
The questions we gathered were excellent and it allowed those guests who submitted their questions a chance to come up to the microphone and ask in person, which I think enhanced their experience.
Any technical difficulties during the recording?
Yes! It took like a half hour for the technical team to get the audience microphone to work. I had to adlib stuff while they tried to fix it. They had me recite gibberish over and over. They just said keep talking, so I was trying to think of stuff to say. I think I was recounting stuff that I ate (that, in and of itself, took a while), things I saw. I basically described the
cruise. (Laughs)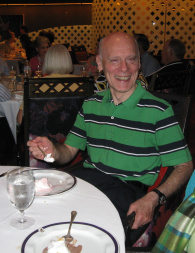 That might be your embarrassing moment then?
Hugh Ross and a whipped creamy dessert
Oh, I have another funny thing too if you're looking for a little experience.
Sure.
I think it was when we disembarked in Skagway. I took a long walk, about three miles, through the town. Cute little town. I saw a wading pool and thought, Of all places, who would have use for a pool here? But I guess they figure, hey why not? It's 65 degrees, so throw the kids in the pool!
Anything else you'd like to share?
Ordinarily Hugh Ross is given to eating copious amounts of green, and he eschews eating greasy foods. But I personally saw him consume a dessert…and we have visual evidence!
——————-
Well, there you have it: A look back at RTB's cruise from the perspectives of Fuz, Hugh, Jeff, Ken, and "Average" Joe. Now it's time for some trivia and a giveaway!
The first person to answer the following question correctly will win the just-released Future Faith Challenges—all the cruise talks in convenient MP3 files!
Whose cruise talk was disrupted by a whale sighting?
Leave a comment below with your response.
If you've followed the series, you may already know the answer. If you haven't, don't miss the boat. Cruise over to parts here.
–Sandra