Take Up and Read: Saved by Grace
This current blog series on Reflections is intended to encourage Christians to read more vigorously by providing a beginner's guide to some of the Christian classics in such fields as theology, philosophy, and apologetics. Hopefully a very brief introduction to these important Christian texts will motivate today's believers, as St. Augustine was called to in his dramatic conversion to Christianity, to "take up and read" (Latin: Tolle lege) these classic books.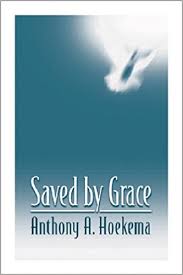 This week's book, Saved by Grace, is by Christian theologian Anthony Hoekema (pronounced "who-kema") and presents the biblical and theological case for salvation being an exclusive gift of God. This is a modern classic in the field of soteriology (the study of salvation) and is written from a distinctly Reformed theological perspective.
Why Is This Author Notable?
Anthony Hoekema (1913–1988) was born in the Netherlands and immigrated to America as a young boy. He was educated at Calvin and Princeton Theological Seminaries. He served as a Reformed pastor, theologian, and apologist. He worked as professor of systematic theology at Calvin Theological Seminary for 21 years.
What Is This Book About?
Hoekema's Saved by Grace presents, explains, and defends a biblical and theological case for salvation being by God's grace alone apart from human merit. Divided into 13 chapters, this book presents a Protestant, evangelical view of all aspects of salvation, including the specific doctrines of regeneration, conversion, repentance, faith, justification, sanctification, and perseverance.
Hoekema makes a biblical, exegetical case for salvation being a divine gift. Thus all of the key Scriptural passages addressing salvation are examined in some depth. In a clear and careful manner, Hoekema examines what Scripture teaches on the all-important doctrine of salvation.
While most conservative Protestants will agree with the bulk of what Hoekema writes about soteriology, the book is clearly written from a distinctly Reformed theological perspective. So some evangelicals will no doubt strongly disagree with some of Hoekema's theological conclusions. Yet if you are only going to read one book about Reformed theology (popularly called Calvinism), then this is the book I recommend you read. Hoekema does a fine job of explaining what makes Reformed soteriology distinct, especially for people who are not Reformed or who have objections to this controversial theological tradition.
Hoekema reflects on the solid biblical basis of salvation by grace:
"One of the central teachings of the Bible, sounded repeatedly, like the major theme of a symphony, is that we are saved wholly by grace, through the powerful working of God's Holy Spirit, on the basis of the all-sufficient work of our Savior, Jesus Christ."1
Why Is This Book Worth Reading?
The book Saved by Grace is extremely valuable for a number of reasons. First, it is written by a skilled theologian who is competent both as a biblical exegete and as a systematic theologian. Second, the work presents a solid Protestant case for salvation being a gift of God's grace vis-à-vis the Roman Catholic view on grace. Third, the book defends a Reformed theological perspective on salvation but interacts fairly and respectively with the Arminian-Wesleyan viewpoint.
All Christians, whatever their denominational connections, can benefit from reading Hoekema's powerful case for God's wonderful saving grace in Jesus Christ.
Endnotes
Anthony Hoekema, Saved by Grace, 6th ed. (Grand Rapids: Eerdmans, 1994), xi.