Take Up and Read: Making Sense of It All
I am writing this ongoing blog series on Reflections to encourage Christians to read more vigorously and enrich their lives with Christian classics in such fields as theology, philosophy, and apologetics. Hopefully, a brief introduction to these important Christian texts will motivate today's believers to, as St. Augustine was called in his dramatic conversion to Christianity, "take up and read" (Latin: Tolle lege) these classic books.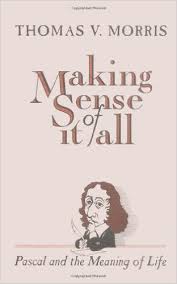 This week's book, Making Sense of It All: Pascal and the Meaning of Life by Thomas Morris is, in my estimation, a contemporary classic in Christian philosophy and apologetics. Morris does a remarkable job of taking quotes and fragments from Penseés—the unfinished manuscript of seventeenth-century philosopher and mathematician Blaise Pascal—and organizing the ideas into an outstanding work of Christian apologetics.
Why Is This Author Notable?
Thomas Morris served as professor of philosophy at Notre Dame University for several years and now heads the Morris Institute for Human Values. He is a leading Christian philosopher and has authored several books on theology, apologetics, ethics, and business.
What Is This Book About?
Divided into 11 chapters, this book is unique both in its organization and content. Morris adopts 11 of Blaise Pascal's central ideas in science, philosophy, and apologetics to marshal a reasonable case for the truth of Christianity. He does a masterful job of articulating how faith in Jesus Christ is the unique answer to humankind's deepest yearnings for meaning, purpose, significance, and eternal life.
Though the book covers a lot of philosophical and theological ground, it is refreshingly readable and, at places, quite humorous. It addresses philosophical, theological, and apologetic issues with great clarity and an engaging style. Morris provides deep insight into why people living in today's world avoid thinking about ultimate issues.
By fleshing out and augmenting Pascal's ideas, Morris skillfully answers many of the existential objections that people give for not believing in historic Christianity. He does so by weaving together many of Pascal's brilliant insights into a significant and powerful Christian apologetic work. In my view, Morris has captured the spirit of Pascal amazingly well. I only wish the book contained a bibliography and/or notes for further reading.
Here Morris reflects on how God's existence provides the ultimate context for life itself:
The question about the existence of God, likewise, is not just a question about whether one more thing exists in the inventory of reality. It is a question about the ultimate context for everything else. The theist and the atheist should see everything differently. In the same way, the question about whether there is life after death should not be just a question about whether we are to expect one more segment of existence, however long, after bodily death. It should be viewed as a question about the overall context for all our actions in this life.1
Why Is This Book Worth Reading?
Thomas Morris has been called one of Christianity's finest contemporary philosophers. This book provides evidence of his first-rate philosophical ability. Making Sense of It All is one of the best books I have ever read on the topic of Christian philosophy and apologetics. Be sure to put this excellent resource at the top of your reading list.
Resources