Take Up and Read: Augustine through the Ages
This current blog series on Reflections is intended to encourage Christians to read more vigorously by providing a beginner's guide to some of the Christian classics in such fields as theology, philosophy, and apologetics. Hopefully a very brief introduction to these important Christian texts will motivate today's believers, as St. Augustine was called to in his dramatic conversion to Christianity, to "take up and read" (Latin: Tolle lege) these classic books.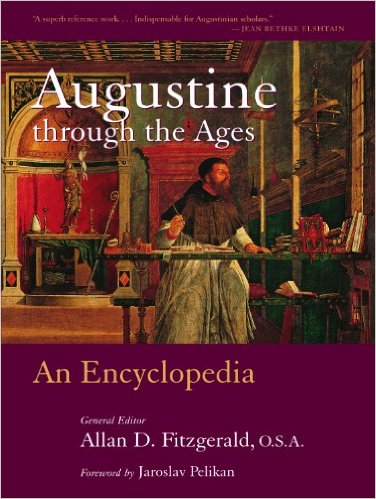 This week's book, Augustine through the Ages: An Encyclopedia, is edited by Allan D. Fitzgerald and is an impressive piece of scholarship. Very seldom is an entire encyclopedia dedicated to a single individual. But in the case of St. Augustine it is justified—outside of the New Testament authors, he is arguably the most influential Christian thinker. This is a valuable scholarly resource on all aspects of Augustine's life and thought.
Why Is This Author Notable?
Allan D. Fitzgerald is a member of the Catholic Order of Saint Augustine, professor of patristics at the Augustinian Patristic Institute in Rome, and the director of the Augustinian Institute at Villanova University.
What Is This Book About?
Augustine through the Ages: An Encyclopedia is an enormously informative work on all aspects of the life and thought of Augustine of Hippo. Every serious student of Augustine would benefit from having this volume. Allow me to enumerate three reasons why this encyclopedia is so valuable in helping people to understand Augustine and his extraordinary contribution both to the history of Christianity and to the intellectual development of the Western world.
First, this work contains hundreds of articles by the best Augustine scholars from both the Catholic and Protestant ranks. The result is that you can fairly evaluate Augustine's contribution to the history of Western Christianity. For example, this volume contains insightful articles on how Augustine's thought influenced the development of the Catholic, Lutheran, and Reformed theological traditions in particular. It also contains articles on how Augustine specifically influenced such Christian thinkers as Aquinas, Luther, and Calvin.
Second, because Augustine wrote more than 5 million words, it is often difficult to pull together his various treatments of issues and to attempt to summarize his overall position. This encyclopedia is quite helpful in systematizing the various categories of Augustine's thought.
Third, this work includes articles which address all areas of Augustine's thought, including biblical, theological, philosophical, ethical, historical, and his many literary works.
The result is a 900-page encyclopedia, with more than 400 articles, written by more than 140 scholars, that attempts to capture the life, thought, controversies, and literary output of one of Christianity's greatest thinkers.
Here is a quote from the book's foreword by Christian historian Jaroslav Pelikan:
"There are certain figures in the history of thought who are themselves an encyclopedia—Aristotle, Dante, Goethe come immediately to mind—and whose writings, therefore, both by their profundity and by their total mass, seem to require encyclopedic treatment. . . . Augustine certainly belongs in that category."1
Why Is This Book Worth Reading?
Like any encyclopedia, this work is meant to be read by selecting specific articles about Augustine's life and thought. Yet this book covers virtually all Augustinian aspects and it addresses them from a broad range of scholars within Christendom. This is unquestionably the definitive scholarly work on St. Augustine.
Resources