Take Up and Read: An Introduction to the New Testament
I am writing this ongoing blog series on Reflections to encourage Christians to read more vigorously and enrich their lives with Christian classics in such fields as theology, philosophy, and apologetics. Hopefully, a brief introduction to these important Christian texts will motivate today's believers to, as St. Augustine was called in his dramatic conversion to Christianity, "take up and read" (Latin: Tolle lege) these excellent books.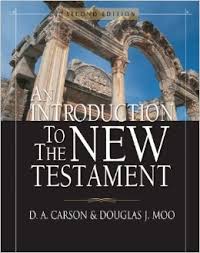 This week's book, An Introduction to the New Testament by D. A. Carson and Douglas J. Moo, is arguably the best work of its kind written by evangelical scholars. As a critically acclaimed standard historical introduction to the New Testament, this volume has had a big influence on the way many evangelical students and pastors have come to think about the New Testament.
Why Are the Authors Notable?
D. A. Carson is research professor of the New Testament at Trinity Evangelical Divinity School and has written or edited over 50 books. Carson also serves as a guest lecturer at church and academic conferences around the world. Douglas J. Moo is professor of New Testament at Wheaton College. Moo has written many commentaries and other works on the various books of the New Testament.
What Is This Book About?
This volume provides a thorough introduction to the New Testament, with a special emphasis on understanding the books within their proper historical setting. The authors explore authorship, date, sources, audience, purpose, destination, and more for each New Testament book. They also summarize each book's central theological content, discuss its contribution to the New Testament canon as a whole, and address controversies concerning particular books.
Helpful aspects of this volume include an extensive chapter that provides an explanation of traditional interpretive approaches to the New Testament, as well as an introduction to the controversial topic of biblical higher criticism. A very important section of this work includes an evangelical evaluation and response to the so-called "new perspective" on the apostle Paul (a significant shift in the way some Protestant scholars interpret the writings of the apostle Paul, especially concerning the role of good works in salvation).
Carson and Moo briefly explain the basic accuracy and integrity of the Greek New Testament:
Whatever the ongoing scholarly disputes, serious Christian readers today are equipped with astonishingly accurate and detailed information in their printed Greek New Testaments. The overwhelming majority of the text of the Greek New Testament is firmly established. Where uncertainties remain, it is important to recognize that in no case is any doctrinal matter at issue.1
Why Is This Book Worth Reading?
If I were to recommend one book that introduces a Christian to all the textual issues and questions relating to the New Testament, this Carson and Moo volume would be my unquestioned choice. The authors are careful scholars who possess a deep grasp of the New Testament content and an understanding of the critical challenges frequently raised about the New Testament. This work should be read and studied by all students of Scripture.